Meladerm Trusted For Over 10 Years - Karaikkudi
Wednesday, 16 August 2017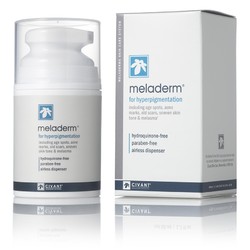 Item details
City:
Karaikkudi, Tamil Nadu
Contacts

karthikeyan

8248836657
Item description
How Does Meladerm® Work?
Your skin color comes from a natural pigment called melanin. Melanin pigment is synthesized in specialized cytoplasmic organelles called melanosomes. Within the melanosome, the enzymatic conversion of the amino acid tyrosine to melanin is catalyzed by the enzyme tyrosinase. The melanosomes in darker portions of the skin are more active than those found in other areas of the body. Overactive melanosomes can also cause visible hyperpigmentation on the skin such as age spots, melasma, and other types of discolorations.
To reduce the appearance of hyperpigmentation, Meladerm® works by combining the well documented properties of the most effective skin brightening ingredients. Many of the active ingredients in the formula are derived from natural extracts such as Mulberry, Licorice and Bearberry plants. Civant Skin Care puts your safety above anything else. Our products contain absolutely no hydroquinone, mercury, steroids or other undesirable bleaching substances.
When combined with exfoliation agents, Meladerm® often provides initial improvement within 2-4 weeks of use. Full results generally take 2-3 months and will vary based on the individual's skin type. New customers are offered a 30 Day Money Back Guarantee on all first time purchases.
Trusted For Over 10 Years
In the spring of 1999, the Civant team embarked on a journey to develop our company's most powerful skin brightening product. Not only was this formula meant to be effective, but also free from harsh bleaching ingredients. Though the idea was simple enough, the research and development to create such a product was surprisingly extensive. Every possible factor was considered in creating this revolutionary formula. Upon completion, the product was officially named Meladerm® and this new formula incorporated the industry's latest research and most cutting edge technologies. And after four years of tests and trials, it was finally available to the public in the fall of 2003. Since then, our R&D Team has been continuously improving the formula with new innovations making Meladerm® the most advanced formula on the market today.